I've been using SiteGround for more than two years now. Let me tell you one thing straight away. It's a great shared hosting PERIOD. I have used more than 20 hosting providers over the last few years so I actually know the good one.
Now it's even better since they have moved SiteGround to Google Cloud servers and new site tools also.
It's one of the best hosting companies out there but it doesn't mean that there are no cons with it. SiteGround does have it's own drawback.


Let's do a detailed review of SiteGround hosting (A-Z) to understand what makes it special.
SiteGround does have an old history. It was started in 2004 headquartered near Bulgar, Europe.
On their About Us page you can see the people behind SiteGround. I really like it when I see faces on about us page.
It feels real and that there are some people to take accountability for their actions and not just some random corporate milking money (EIG
).
When you log in SiteGround it's going to be a very easy to use pane. There is no cpanel as they have upgraded it with site tools.
Site tools are easy to use and yes in my experience it is better than cpanel and fast too. 
It also comes with one click WordPress installation for beginners. 
I feel SiteGround have found a perfect balance for beginners and pro with their site tools.
I had my website setup on Singapore servers and here is the server response time that I got.

Result was A+ and I'm happy with this server response time.
For speed tests I did not use the default theme. Instead I installed OceanWP Gym Template on my WordPress website and did all tests on that.
Why GYM Theme? In my experience this is how the average website consumes resources.
While speed testing I did not changed any setting or installed any third party cache plugins.
I used the default plugin "SG Optimized" that comes pre-installed with SiteGround WordPress installation. No settings was changed or optimised for this speed test.
From  Bangalore I got 1.1 sec load time
From Singapore I got 900ms load time

These speeds are good but if I can optimize my cache plugin then it can give me even better speeds.
One thing to note here is that since they have shifted SiteGround servers to Google Cloud the speeds have increased. 😍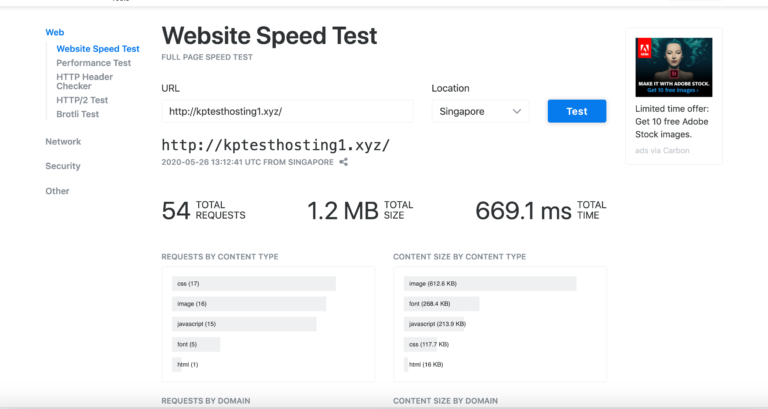 SiteGround comes with inbuilt cache manager and also comes with a cache plugin "SG Optimizer"
I think it's one of the best cache plugins out there. It is very powerful, comes with all the premium tools that you need in a cache plugin. 
You won't need to buy a cache plugin if you get SiteGround hosting. 
SiteGround servers do support Memcache which is good but it doesn't comes with a startup plan.
Since March 2020 till now (June 2020) I got 100% uptime with my SiteGround GrowBig plan.

Before March the average uptime in a month was always better than 99.9%

So for uptime SiteGround definitely sticks to their words. Moving to Google Cloud made the uptime even better.
So I send 50 virtual users to see how the server will handle the load. I was happy to see that SiteGround shared hosting handled it very well without any fluctuations in server response time or any http failures. Again all thanks to Google Cloud.

What does this mean? It means SiteGround can easily handle 50 real time users without any performance hiccups. It can handle more than that too depending upon your website and resources you are consuming.
Earlier SiteGround was having 4 data centers. USA
, UK, 
Netherlands and Singapore.
Recently they have introduced 2 new data centers. Australia & Germany
So now they have 6 data centers which for a shared hosting is super awesome.
SiteGround backup system is also good. It provides an 30 days off server backup which is very easy to use.
Comes with one click restoration option and automatic backups.
Backup system workless flawlessly but it doesn't come with startup plan.
Startup –  1.5 Lakh

GrowBig – 3 Lakh
GoGeek – 4.5 Lakh


Earlier GoGeek was 4 lakh and only recently they upgraded it to 4.5 Lakhs.
SiteGround comes with 24/7 live chat support which was good and technical in my experience. Waiting time was less than 10 mins in most cases but in some rare scenarios I got upto 60 mins. 
SiteGround comes with 3 plans.
Plans –> Startup -> GrowBig -> GoGeek
Price –> $6.99 -> $9.99 -> $14.99
All three plans are good, but for most people, GrowBig will be the best option.
International Debit or Credit card is accepted.
For some reason SiteGround offers a one month trial plan for $14.95 "Setup Fee" for Monthly Billing. This offer doesn't make any sense to me. You're paying the introductory rate $3.95/month plus a one-time setup fee of $14.95. Worst part is that it will be renewed at their regular prices.
So you should strictly avoid this and if you want to try then you should go for yearly plan and then claim the refund if needed.
Talking about refund it comes with a 30 day refund policy for shared hosting and 15 day refund for cloud hosting.

SiteGround comes with free SSL for unlimited websites for all plans.
Cloudflare CDN is available for all plans.
SiteGround also provides a staging option which is very well integrated with the new site tools. Staging is used to test new things in backend before changing the live version of a website. Say if you want to change a theme. You shouldn't be doing it on live websites. That's a bad move. Instead, you should be using a staging copy, make changes and when you are happy with the changes & new theme then only you should push it to the live website.
With SiteGround staging you can push changes to live website with one click.
Earlier SiteGround used to offer free migration but recently they removed it. Now SiteGround don't offer any free migrations. Though you can use their migration plugin which is very easy to use. I like it but sometimes it doesn't work perfectly and you still need to make some changes.
If you want them to migrate then they will charge you $30. This price is okay for a migration.
On the software side php 7.4 is available which is good. It's good to have the latest version of php. Python 3.7 is supported.
Perl, node.js & larvel is not supported in their shared hosting plans.
SiteGround uses a Weebly site builder. It is one of the best site builders in a shared hosting. It's Easy to use and comes with lots of features. Though all features are not free.
It comes in 3 plans – Free, Starter, Professional & Business
No primary domain name is offered for free. SiteGround does offer a temporary domain name for unlimited time.
Other hosting companies usually provide a yearly domain name for free. SiteGround doesn't offer that.
With SiteGround hosting you can create unlimited emails but they are limited by the mailbox size.

Startup –  2000MB
GrowBig – 4000MB
GoGeek – 6000MB
Earlier SiteGround was PCI compliance but now they are not. Usually shared hosting doesn't come with PCI compliance.
If you want to collaborate with team members then SiteGround provide an option for that too. It's easy to give access to your website to your developer with these collaboration tools.
Now we have covered every detail including the real test about the SiteGround hosting in this detailed review. So now let's sum this up with pros & cons of SiteGround hosting.
Google Cloud


      Google Cloud makes the shared hosting even better.



Good Support


      Support is very good, fast and technical



Backup & Restore


       One click backup & restore options really make the hosting hassle free.


Speed
       Speed is fast for shared hosting



In build Cache – Plugin


        Memcache is provided along with a very powerful plugin



Weebly Site Builder


        One of the best site builders for a shared hosting



One Click WordPress Installation




         Easy to install WordPress for beginners
High Renewals (70%) 
     Renewals are high so try to buy it for 3 years.


No Free Migrations



Less Storage Space


       Max storage space that you can get in shared hosting is 40GB.


No Free Domains


       No primary domain name is provided for free.
It is one of the best shared hosting or managed WordPress hosting out there.

Yes, it may feel a bit expensive but when you consider the whole package.
Google Cloud, uptime, support, speed, backup system, cache plugin & security then it is absolutely worth it.

SiteGround is one of the most reliable hosting out there. Since the last 5 years they have consistently been at top. It is not that easy to maintain top position consistently.

If I have to bet my money on a shared hosting then I'm betting it all on SiteGround.
SiteGround Hosting Review 2020
 SiteGround Pros (+)
Google Cloud
Good Support
Easy Backup & Restore
Good uptime (99.99%)
Stable & Fast Speeds
Inbuilt cache plugin
Weebly Site Builder
1 Click WordPress
Free CDN and SSL on all plans
 SiteGround Cons (-)
Higher Renewals
No Free Migrations
Limited Storage Space
No Free Domains