Your choice of web hosting company will determine the prices you pay, the quality of support you receive, and most importantly, your performance in the search results. Your rank on Google and other search engines is partially determined by how fast your website loads (page speed). A slow or unreliable website leads to poor user experience, which is exactly the opposite of what search engines want their audience to see.
Slow speeds aside, unscrupulous hosting companies may even vanish without warning, taking your content and earnings along with them.
The good news is that hosting companies are now more accountable and reliable than ever before. Cloud computing and redundant network infrastructure has resolved yesterday's problem of reliability, while company review sites help to reveal the best and worst that the hosting industry has to offer.
The improvement seen in network speeds and security has been successful in both driving down the costs of web hosting, and paving the way for a plethora of new brands and hosting packages to choose from. New webmasters today are truly spoilt for choice.
As more companies enter this already crowded industry, legitimacy and a proven track record take precedence over newcomers offering the cheapest price. After all, you wouldn't trust giving your money to a bank that opened yesterday, so why do it with your investments online?
Due to of the risks involved with trusting unestablished hosting providers, we're only going to stick with the best: Siteground, and Bluehost. Both of these companies have the expertise and personnel required to give you an incredible hosting experience, as well as impeccable customer support.

Siteground Vs. Bluehost
You might be wondering what they key differences are between Siteground and Bluehost. After all, both of these companies are giants in their respective fields when it comes to web hosting. We are going to look at the important differences between the companies, as well as compare their different services.
At the end of this article, you will be able to know for sure if Siteground or Bluehost is better for you.
Siteground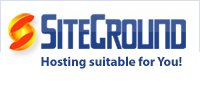 Siteground has been in the web hosting game since it was popularized back in 2004. The company was founded on a college campus with only a handful of employees. Today, Siteground boasts more than 500,000 domains in its' portfolio, and is one of the fastest growing web hosts today in terms of revenue.
Siteground offers a range of web hosting packages, including shared, cloud, VPS, and dedicated server options. While the shared hosting environment for the majority of people will be more than enough, the other options exist for the more demanding users that require faster speeds, as well as an increased disk space.
The main point of difference for Siteground comes down to their great customer service, reliability, and speeds. Many customers who were unhappy with their previous provider have jumped ship to Siteground, and are now very satisfied with their experience. The company makes it easy to change too, with Siteground handling the transfer of your domain and hosting package with no questions asked.
Bluehost
Bluehost is another popular webhosting option, and was launched back in 2003 by entrepreneur Matt Heaton and Danny Ashworth in Provo, Utah. Bluehost has more than two million websites in their portfolio, and has over seven hundred staff.
Bluehost is one of the larger web hosting companies on the market today, which can give you a sense of comfort and security that the smaller companies lack. If something goes wrong, the staff at Bluehost are there to answer your questions 24/7, which is unlike other companies on the market that only offer email or phone support.
The company states that they are committed to WordPress hosting, and have done so for the past ten years. Bluehost has in-house WordPress experts that help with the support and maintenance of the platform. Bluehost's team even includes engineers on their development staff that work full-time  on WordPress.
One thing that makes Bluehost stand out from the rest is that the company actively contributes to the open source community. The company releases free to download scripts and tools on a regular basis that anyone can use, as well as supporting up to 80 open source platforms with updates and customer support. The company bills itself as 'the world's leading solution for source implementation and development.

The differences between Bluehost and Siteground
Now that we have introduced Bluehost and Siteground to you, it is the time to go over the important differences of each company and what makes them unique. It should be noted that your own preferences and requirements should be taken into consideration when comparing the two companies, so you are and encouraged to review each company carefully with your own eyes.
Speed
Both Siteground and Bluehost have world-class data centres and also feature a 99% uptime guarantee. What this means for you is that you can be assured that you site will be online when it matters the most, as well as blazingly fast speeds.
The overall performance of your web hosting package will mostly be determined by the package that you choose to purchase. The shared hosting package for example, offers the cheapest price at adequate speeds for most people, although power users who require more from their hosting may opt for a virtual private server, (VPS) or even a dedicated hosting option.
Customer Service
Siteground has an award-winning customer service team, and has a specialty in taking care of disgruntled customers that have come from other web hosting companies. You can contact Siteground or Bluehost 24/7 using free email, phone, and live chat support.
The companies are equal in terms of the quality of customer service that you can expect from the companies, so they are equal in this regard.

Hosting Packages
Siteground and Bluehost both offer a range of flexible hosting options, from shared through to the dedicated hosting option. What you choose will depend on your requirements, which will depend on if you need the extra hosting space or more oomph with your hosting speeds.
Siteground's packages are slightly cheaper at a few dollars per month for every option. Although a few dollars may not sound like a lot of money, it does quickly add up over the months and years while your service is running, so it is something to keep in mind.
Ease of Use
Siteground and Bluehost both run the latest versions of cPanel, which is the most common tool used for installing popular packages such as WordPress, Joomla, and other platforms. Although cPanel is branded differently between the companies, the overall experience of using the software to install the packages is identical from company to company. In other words, you won't notice much difference at all in terms of installing your required software.
Price
As seen above, Siteground offers a slightly less expensive hosting experience than Bluehost, which could end up saving you around $30 per year. Siteground offers a fast and reliable service at discount prices, while Bluehost casters to those who want to support the open-source software market, as well as receive a high level of customer support.
There are also coupons and other discount deals that may be on offer for both Bluehost and Siteground. These coupons are usually sent at certain times of the year, such as through the holiday season and at the start of summer. Discounts can range from a free first month worth of hosting, through to a discount on the entire package.
Bonuses
Web hosting companies frequently include a variety of bonuses as an incentive to sign up with them over their competitors. The bonuses are varied, and can include vouchers for Adwords advertising, through to special deals made from their partner sites.
The available bonuses for Siteground and Bluehost change from month to month, and are only shown to those people who have indicated a serious level of interest in becoming a customer.

Some bonuses may include:
Advertising credits.
Free web analytic software.
Anti-virus scanning.
Free WordPress plugins & themes
And more.
Choosing between Siteground and Bluehost
Now that we have compared the differences between Bluehost and Siteground, you may be left wondering what company is right for you. After all, every company seems to offer similar services at about the same prices, so what company stands out as the best solution?
The answer is that it really comes down to you and what your requirements are. However, there are some common reasons for why people will choose one company over another, and we have compiled this into a fact sheet that can be seen below.
After reviewing each company, you will be in a better position to make the most informed decision possible. You can also click on each link to get a more in-depth review of the different packages and options.
When to choose Siteground
Siteground offers a great experience for anyone who is coming from a previous provider, as well as supporting newcomers to the web hosting market. Their customer support makes it easy to transfer your existing domains, and they will do everything in their power to make sure your transition to the hosting world is quick and effortless.
You should choose Siteground if you are fed up with your current provider, or if you prefer to deal with a smaller company that has a track record of taking care of their customers.
Siteground's shared hosting plan is the most popular package that the company has to offer, and is widely considered the fastest shared solution on the market today.
Siteground offers an all-round better option to Bluehost if you are content to stick with their most basic of packages, and if you don't require the extra support for their open source platforms.

When to choose Bluehost
Bluehost is the ideal option for people who want the very best in terms of reliability and speed over their competitors. Not only does the company feature in-house support and development for WordPress, they also provide numerous bonuses to their users such as free plugins and tools that you can use on your WordPress blog just by being a customer of Bluehost.
Bluehost's ongoing support of the open-source community as a whole should not be taken lightly. You never know when you may need help with a supported WordPress plugin or theme, as they are known to be hard to install and modify at the best of times.
Bluehost may be a little more expensive than Siteground, but their customer service and expertise in customer service arguably makes it the all-round better option for people who need it.

The Bottom Line
There is more that goes into selecting a valid web hosting company than just their prices and features and benefits; the reputation of the company also goes a long way to ensure your complete satisfaction. The good news is that both Bluehost and Siteground carry excellent reviews from their current and past customers, and both are growing enterprises as more people become internet-savvy.
If you are still unsure about what company to choose, you can always look at the different packages on offer from the companies and come to your own conclusions. Siteground and Bluehost both come with a money back guarantee option, so there is very little risk in changing your hosting option or for shopping around to get the best deal possible.
As always, your own expectations and point of view will determine if you are happy with your chosen provider or not. Due to the differences in results seen in hosting providers, companies will frequently package their deals with a money back guarantee, so that you can be sure that you are getting the most value for your chosen company.
We have included some links to both Siteground and Bluehost for you to view. You are encouraged to carefully read each site's features and benefits and make a decision from there, as there could be a feature that appeals to you.
Both companies are running specials at the moment, so you should take advantage of the companies' discounts while you still can.
Check out our last post going over Siteground Vs. Hostgator