Choosing a web hosting company use today is more complicated than ever. Not only are there more companies on the market than only a few years ago, there are also a variety of plans and hosting packages to choose from. The enormous amount of companies' means that it can be hard at the best of times to know what is the best overall solution, which is something that will only get more complicated as more companies enter the market.
The good news is that there are certain features that you can lookout for that can give you a clear indication if the company is worthy or not. Things like price point, features, and included bonuses can go a long way in helping you determine what package is right for you.
There are a handful of web hosting companies that stand out as the number one options for many people. These companies have been in the industry since its inception around twenty years ago, and continue to provide great customer service a t competitive price.
Two of the leading webs hosting companies today are Siteground and Godaddy, and selecting between the two can prove to be a close match up.

Siteground vs Godaddy
Siteground and Godaddy both have extensive histories in the web hosting market, and continue to grow their user base through positive word of mouth and a great track record of delivering outstanding customer service.
So if Siteground and Godaddy are great options, what company do you go with at the end of the day? That question is not easily answered, as your choice of hosting company will usually reflect your own requirements, and what you personally consider a successful experience. You should also examine your needs for speed, customer service, and disk space, as these features are what you pay for more than anything when it comes to choosing a web hosting company.
Godaddy
Godaddy hosting is one of the most popular choices today for anyone who wants high quality hosting. They are by far the most recognizable brand out of all the popular choices today. Godaddy is the largest web hosting registrar in the world, with over 38 million websites under management.
If you search around the internet for the best webhosting option, a lot of the time you'll find that Godaddy is the most recommended host to go with. Godaddy makes it extremely easy to get set up with your hosting experience, and is newbie-friendly, so even someone completely new to the world of websites and hosting can get up and running without any dramas.
Godaddy offers a variety of webhosting packages and upsells, including shared, cloud hosting, vps, and dedicated servers. The company is flexible enough to provide something to everyone, which why they are the recognized leaders in web hosting.
Siteground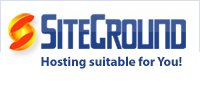 Siteground is a much smaller webhosting company, but still has over 500,000 websites under its registrar. The main point of difference that Siteground has over its competitors comes down to its award-winning customer service team and speedy hosting services.
Siteground offers a more personalized experience over the big name companies, and has the reputation and testimonials to back up their claims of being a leader in webhosting.
Like Godaddy, Siteground has a variety of packages to choose from, such as shared, dedicated, and vps server options. There is an enormous variety of choice with Siteground, and getting started with installing popular platforms such as WordPress and Joomla is a very straightforward process.
Most people find themselves signing up with Siteground not as their first web host, but usually because they're fed up with their current providers. Transferring domains and website files is Siteground's specialty, and they can do this through their award-winning customer service team. Siteground takes care of you when other hosting companies and dropped the ball.
The company's smaller size may appeal to those who want to support the little guy. Not everyone likes dealing with the huge corporation such as Godaddy .Their nimble size means they can be more flexible in handling customer issues and disputes, and you don't feel like a number when you call into their customer service department either.

The differences between Siteground and GoDaddy
Now that we have introduced the companies, now is the time to examine the differences between Siteground and Godaddy. Although either host can make for a great experience, there are some important differences between the companies that will determine if you are satisfied with your performance or not.
We will cover some of the most asked about features for both companies, and then leave the final decision in your hands.
Speed
Both companies offer a fast hosting experience at competitive prices. The main difference between Siteground and Godaddy here is the size of the companies itself, and how that can affect how quickly your website loads.
Godaddy has more than ten times the amount of customers that Siteground has, and Godaddy continues to grow with each passing year. Because there's so many people using Godaddy's services, the company's resources can be spread thin from time to time, which can make your website load slower. Siteground has a fraction of customers that Godaddy has, so overall your sites should load faster, and be more reliable in general. Siteground earns a point over Godaddy in this regard due to the differences in size.
Ease of use
Siteground and Godaddy both use the same software to install popular platforms such as WordPress, Joomla and other scripts. There is no difference in how easy either company is to use, as both companies offer a one-click installation on all of their packages.
However, Siteground is generally more intuitive to use than Godaddy when navigating different parts of their website. For example, if you have a question about your billing cycle, it is easy to find the appropriate links on Siteground's customer portal page, while Godaddy's system is confusing and hard to use.
Customer support
Siteground is a smaller host, but still has a substantial amount of customers and staff on hand to handle any enquiry. With Siteground, you can be sure that your questions will be answered in a professional and timely manner, as well as being treated as an individual instead of a figure on a balance sheet. Godaddy still provides good customer service, although many people may feel more comfortable with Siteground's humanized approach to customer service.
The other thing to keep in mind about Godaddy is that they have literally millions of customers to look after. So it may take a while for them to get back to your question, although Godaddy does have a great DIY solution for answering the most commonly asked questions.

Price
Overall, Godaddy is more expensive than Siteground. Although Godaddy might offer cheaper packages on the surface of things, when you go to actually pay for your hosting you are encouraged to purchase a variety of add-ons and upsells that can greatly increase the overall price of the package. Need an email address? That will cost you with Godaddy. So will basic things such as 24/7 support.
Siteground's pricing strutures are more easily understood than Godaddy. What you see is what you get with them. There is also no confusion about how much you'll actually be paying over the long-term, which could increase your trust in the company overall.
Bonuses
As stated previously, Godaddy is the largest domain registrars in the world. Due to the company's size, they are a unique position to offer a fabulous suite of bonuses and incentives to their users. These incentives can include things such as free advertising credits, or special deals on software and other programs.
SIteground is one of the smaller players, and don't have a massive budget in order to get people on board with them. You'll still be offered deals from time to time with Siteground, but Godaddy generally offers the superior packages with their bonuses, and the little things they offer you can really add up.
Packages
Godaddy and Siteground offer similar web hosting packages, which is the same that can be seen for the majority of web hosts around the world.
Both companies offer their versions of the following:
Shared hosting
Cloud hosting
VPS hosting
Dedicated hosting
There are also more experimental hosting packages being released with each passing year, such as those that are powered solely be wind energy, which is being trialled by Host Gator.
The bottom line is that either company will have something to suit your needs, regardless of how cheap or powerful that you want to go.
You should choose Godaddy if:
You should choose Godaddy if you want a premium-level of customer service, and some hand holding for your first foray into the world of hosting. Godaddy is the king of newbies. They make it extremely easy to get your website set up and running in only a few minutes.
Godaddy also offers numerous bonuses for staying with them, such as free WordPress themes and plugins, as well as bonuses that are given periodically throughout the year. Godaddy will guide you every step of the way to getting our website set up with minimal fuss, and their customer service team is second to none.
Just keep in mind that you are paying for the VIP treatment with Godaddy. And don't be surprised if your final checkout price with all the extras and upsells they tempt you with to be much higher than the ticket price that can be seen on Godaddy's website.
You should choose Siteground if:
Some people do not like dealing with large corporations. Siteground can bridge that gap where others can't. Siteground has a fraction of the customers that other companies, but they are still large enough to provide a robust infrastructure at competitive prices.
You will get a more personalized feel if you choose Siteground over Godaddy. You will be treated like a friend instead of a customer, but you'll also sacrifice some important features such as the extra bonuses if you go with Siteground.
Siteground is also an excellent company to jump ship to if you are dissatisfied with your current host. Siteground makes it extremely easy to transfer your domains and hosting to them, and they will take care of you every step of the way.
Siteground offers a faster hosting experience than other companies, which is due to their nimble size and advanced networks. You should go with Siteground if you want to support a smaller enterprise, at greater speeds and with more transparency than Godaddy.

The bottom line
What is right for you will come down to your own expectations and requirements. You may not know what you need until you browse through the different hosting packages for yourself. To be honest, besides for a few key features, there isn't a lot of difference in the way of hosting companies. It's all pretty much the same. What company will be right for you will mostly come down to your gut feeling, so you are encouraged to do your own research instead of taking each company just at face value.
We have prepared some links that you can see above for you to get an idea of what hosting company is right for you. Companies sometimes offer incentives and coupons to get started, which can include a free first months' worth of hosting, or they could also throw in a couple of extras to sweeten the deal.
Check out our last article comparing Siteground Vs. Bluehost
If you are still unsure about what company to choose, you can always check out each company's testimonials page that can be found on each company's website. The testimonials can give you a perspective from their previous clients, as well as people who have been in your shoes before.
In conclusion, Siteground and Godaddy have their own strengths and weaknesses. What company is better for you will come down to what you are ultimately looking for in a web host, but you cannot really go wrong with choosing either, as they are both industry leaders in their own regards.